Cuba used to have a bit of a reputation as a forbidden destination – somewhere that was shrouded in secrecy and difficult to get to. While the island nation's turbulent relationship with the United States certainly placed some restrictions on the available air routes into Cuba, the country was never as cut off as somewhere like North Korea. The Cuban government has made real steps to open up their country to visitors (and their much needed money) in recent decades, and many tightly controlled aspects of travel and tourism have been deregulated, leading to a greatly increased number of hotels and restaurants. Havana is generally the first port of call for visitors, and if you're pressed for time, it might be the only one. If you're planning to explore the rest of the country, or just want a day trip from the capital, look no further than Viñales, which is just under two hours drive from Havana. This beautiful little Cuban town has much to offer visitors, and yet is still somewhat of a secret – it's not yet overrun with visitors looking for that unique Cuban experience. But what is it that makes this place so memorable? What are some great things to do in Viñales?
1. Welcome to Colorful Viñales
With a population of under 30,000 people and a downtown area that's comprised of a few streets of mostly single story dwellings, Viñales gives the impression of being a sleepy small town. Don't be fooled by this first impression, and while you might be in the wrong place if you're looking for an all night party, the town has a wealth of activities for visitors. You'll be spoiled for choice when it comes to things to do in Viñales. A walk through the town is probably the first thing you'll want to do, if only to take in the colors. Most of the buildings in town have massive porches, some of which are home to sensational restaurants that come alive after dark. You'll notice that many of the buildings are painted in vibrant, beautiful shades of blue and rose, meaning that a walk through town is a treat for your eyes.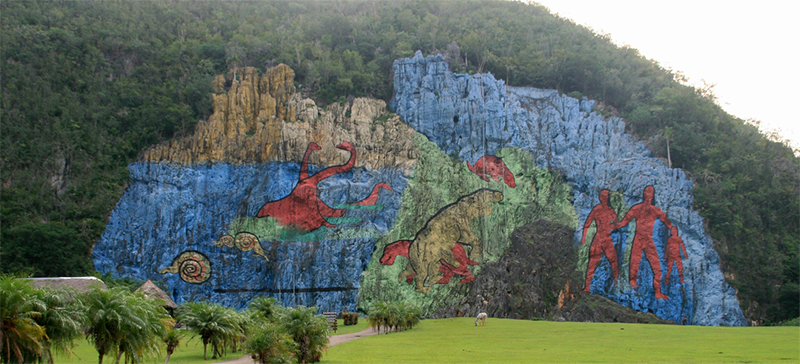 2. Climb Every Mountain (Or at Least One)
While the town of Viñales is pretty flat (ideal for walking and cycling), the terrain surrounding the town is quite mountainous. We're not talking about the Alps here, but beautiful craggy low mountains rich in limestone, covered in lush rainforest with the occasional sheer rock face. These mountains are part of the Cordillera de Guaniguanico ranges and are great for rock climbing. You can hire climbing gear and arrange a tour at many different outlets in town, and it's not a great idea to go by yourself, even if you've climbed a lot before, since you won't be familiar with the area.
3. Going Down Under
If you don't much like the idea of climbing over the mountains, why not make your way under them? The Viñales region is home to many underground cave systems, and tours are available. Once again, it's certainly not something you should do unaccompanied. The Cuevas del Indio (Indian Caves) are located on the outskirts of town and are perfect for beginners, since the wilds of the caves have been tamed – there's a paved floor and lighting has been installed, so it's perfect for all ages and levels of physical fitness. For something a little more involved, try the Gran Caverna de Santo Tomás, some 15 km outside of town. Rather than a leisurely walk, this is two solid hours underground, going through the largest cave system in Cuba.
4. Get Back to Nature (One of the Easiest Things to Do in Viñales)
The landscape around the town is primarily national park, and so one of the best and easiest things to do in Viñales is to get out and explore nature. While of course you can arrange a guided trek, it's also something you could do yourself whenever the mood grabs you. Just walk to the edge of town and into the park. Perhaps don't aim for a gruelling all day trek, and try to keep the town in sight so that you don't get lost. Cuba is hot, so don't forget water, a sunhat and suitable clothing.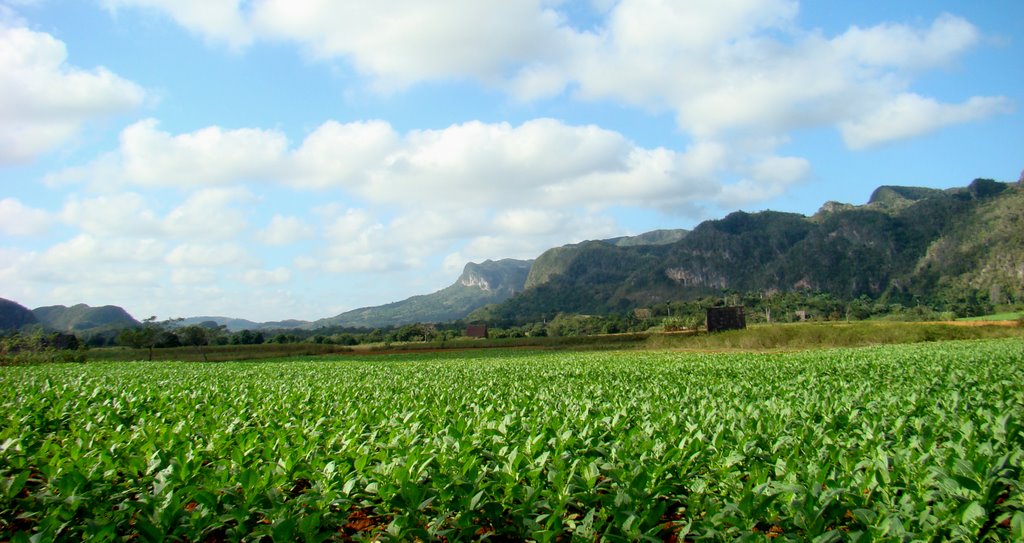 5. Stop to Smell the Flowers
Take in a free tour at the Jardin Botanico de Viñales (Botanic Gardens), and you'll be greeted by a wide array of tropical trees and flowers, and will even be able to enjoy tropical fruit directly from the plants. Keep your eyes open – you might see a hummingbird as it goes from one flower to another, enjoying a lunch of nectar. While the garden (including a tour) is technically free, a tip is expected.
6. Salsa the Night Away
It can feel like your entertainment options are limited in what is a reasonably small town. It's not always a bad thing, since the whole community seems to come to the same place on a Saturday night, which makes the whole experience feel more inclusive. No visit to Viñales is complete without a visit to the Centro Cultural Polo Montanez. You'll enjoy excellent cocktails (a mojito, of course), along with sensational live music and dancing. If you're not too confident on the dancefloor, just watch the locals to see how they do it.