When you're working out how to get around in Havana, you're probably going to be tempted to take one of those glorious old taxis (and you should – those things are awesome). But what about seeing the sights on two wheels? Havana is actually a really bike friendly city, despite the wonderful chaos. Seeing Havana on bike is a wonderful experience that allows you to set your own pace. First of all, let's look at a few tips that will make biking in and around the city a safe and enjoyable experience.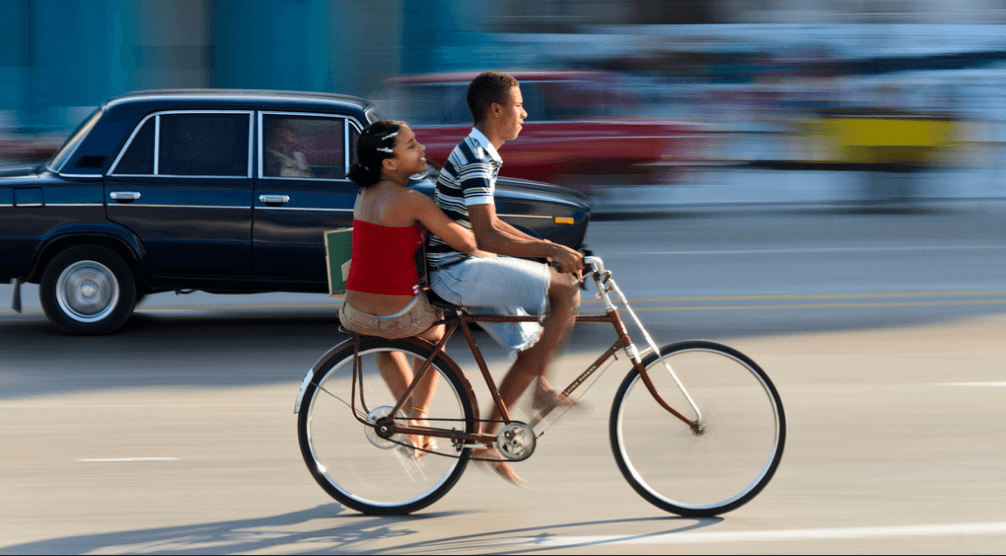 Rent a Bike or BYO?
Serious bikers might want to bring their own bike into the country (and pay the hefty excess luggage fee charged by the airlines), but there are many bike rental operations that allow you to see Havana on bike. Unless you're planning a bike tour of the length of the country, renting a bike is perfectly fine. Check the quality of the bike before you ride it away, and you might actually want to rent a mountain bike. It's slightly more expensive, but the added suspension can make for a more comfortable ride if you happen to go down some of the city's less well-maintained streets.
Bike Helmets
Bike helmets are not mandatory in Cuba, but they can be a good idea. Accidents are rare, but they can happen when you're not familiar with the terrain. Many private bike rental operations will offer you a helmet when you rent a bike for a small additional fee.
Beware of Potholes
Watch out for potholes, although these are more evident on the open road (such as if you plan to bicycle from one town to another) than in cities. You don't need to worry about them so much in large cities, but keep an eye out when you explore Havana on bike.
Biking After Dark
Exploring Havana on bike after dark is certainly possible, but it can be difficult to see hazards as some streets are poorly lit. Exercise caution and ride at a slower speed than usual. That bike helmet suddenly seems like a good idea!
Such Courteous Drivers
Cuban drivers are extremely courteous when it comes to bike riders, which is a significant pleasure. They will give you ample room when they pass, and it's really nice to see that bikes are so well respected in the country.
Taking Your Bike on a Day Trip
If riding from one town to another, you might feel that you have the roads to yourself. There is not a huge amount of traffic between towns in Cuba, so the open roads are yours! If you want to take your bike on a day trip to a town near Havana (such as Viñales), you can take your bike on some bus services. Remember to tip the driver, as is customary for the mild inconvenience.
Seeing Havana on Bike: DIY or Hire a Guide?
The city of Havana is a sprawling beauty, so you will need ample time to see Havana on bike. There are a number of tour companies that will take you across the city on two wheels, and this will take approximately four hours for a comprehensive tour (and they will usually provide the bikes).
Be wary of tour guides who claim that they can show you the "whole" city in an hour or two, as the tour will inevitably run longer. You are then requested to pay extra at the end, since the tour took much longer than the guide was "expecting". Be sure that the price is final before you agree. There are many tour guides who can tell you about the points of interest you pass and give you some brief history about the site. Your other option is to make a list of the places you want to see and plan your own route.
Planning Your Own Route
In most cities you could simply follow a map on your smartphone, which will also provide links to online information as you arrive at each destination (much in the way a guide would). This is not a viable option in Cuba and is not recommended when you're seeing Havana on bike. There is not sufficient coverage to access the internet on your phone all across Cuba, and even where it's possible, the roaming costs can be astronomical. Try to research your route before you leave for Cuba and then download a smartphone map that can be accessed offline. Your route and any information about your destinations is then stored on your phone.
A Suggested Bike Tour That Is Not Too Strenuous (and It's Difficult to Get Lost)
Start at El Capitolio , which is Havana's National Capitol Building (and it looks rather similar to the US Capitol Building).
It's on the edge of Havana's Old Town, and you can then ride along the narrow streets of Old Havana, gradually making your way north.
Explore as much as your schedule allows, and you'll find that you can ride in most areas. Bicycles are not permitted in some plazas, so be sure to dismount and walk your bike through these areas.
You'll eventually reach the Malecón , which is a path that runs along the harbour for 8 km (5 miles). Turn west and follow the Malecón until you reach Vedado (at the end of the path). Ride carefully along the Malecón as there are often a lot of children here.
Now you can explore Vedado, which was one of the more ritzy parts of the city before the revolution. Some of its grand mansions are crumbling, but many of them have now been converted into bars, restaurants and clubs. Just the perfect place for a refreshing drink before you turn around and ride back…