There's so much more to shopping in Cuba than wondering how much rum and cigars you can sneak back into your home country. Seriously though, please check the regulations with your home country, as you don't want those sensational brown tubes of tobacco deliciousness to be confiscated. Havana is seen as a feast for the senses, with so much to see, do, eat, and drink. This is certainly true, but the city has an undeserved reputation as not being so great when it comes to shopping. This is perhaps because Havana offers such a different shopping experience to cities of a comparable size. There are no American style mega malls, and few chain stores… but surely this can be a good thing? Havana markets offer an abundance of products to take home, and you can certainly pick up a one of a kind keepsake of your time in the city… and that's in addition to any rum and cigars you might want to take home. So what are the best places for shopping in the city?
Books Galore
Cuba has an impressively high literacy rate (some 96% of the population are literate, thanks to a government sponsored program). As such, the city is happily overrun with book stores, both new and vintage. The bad news is that the vast majority of these books are in Spanish… unless you know where to look (and even then, it's the luck of the draw). Even if you don't actually buy anything, there is much pleasure to be found in browsing the antique book markets on the Plaza de Armas (Havana's Old Town, closed on Mondays).
In addition to books, there are a lot of beautiful old posters and postcards. There's also a nice selection of art on offer too, but be wary of caricaturists who will engage you in conversation as they start to draw you… and will then ask for payment whether you consented to the drawing or not. The sheer volume of books here means that it's your best bet for finding publications not in Spanish.
Everything Under One Roof
The Centro Cultural Antiguos Almacenes de Depósito San José is one of the Havana markets that is actually indoors. Housed inside a mammoth warehouse, the market is on the corner of Ave Desamparados and San Ignacio and is closed on Sundays. It's a weird mixture of the typical stuff that tourists buy (Che Guevara shirt anyone?) as well as beautifully unique arts and crafts that were produced locally. Both Havana residents and visitors enjoy coming here, and the prices are generally negotiable. Be careful about buying one of the many large paintings on offer. Sure, you'll never find anything like it again, but transporting it home can be rather costly.
Havana Markets for the Wealthy
Everyone is meant to be equal in socialist Cuba, but this is not the case in reality. There are markets that cater to Cubans who are better off than their fellow residents, and the Galerías de Paseo is such a place (located on the corner of Calle 1 and Paseo, open 7 days – although it closes at 1pm on Sundays). It can be an interesting experience to see what passes for an upscale shopping mall in Cuba, although you'll have difficulty finding brands and designers you're familiar with.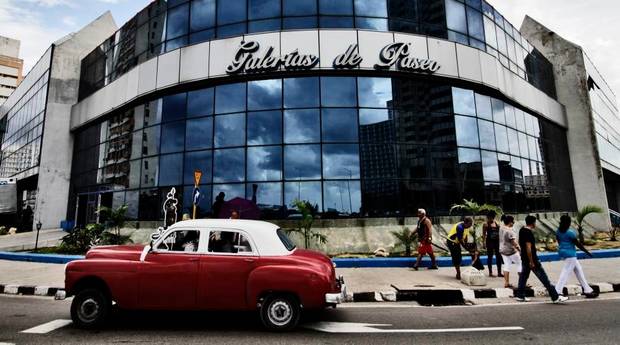 Compared to the delightful chaos of the rest of the Havana markets, this mall can be a rather soothing place. If a more upmarket shopping experience is your thing, you should also visit Plaza Carlos III (Ave Salvador Allende, closed on Sundays) or Plaza América in the neighbourhood of Varadero (located on Autopista Sur Km 7). You will perhaps even find brands you've seen before in these shopping malls… not that you will want to buy something you can buy anywhere! Even if you don't want to buy anything, they can be great places to grab a coffee (and it's difficult to find a bad coffee in Cuba) and watch the well-heeled as they go about their day.
A Market Your Tastebuds Will Appreciate
This delightful food market doesn't really have a formal name, and is generally referred to as Calles 19 and A. This is rather uninventive, since it's located on Calle 19 (between Calles A and B). It offers a sumptuous selection of fruits and vegetables harvested from the farmland around Havana. It ranges from basic, cheap fare to fruits and vegetables that are deemed exotic by Cuban standards (with prices to match). Much of what is on offer is only of benefit if you have a kitchen to cook it in, but it's a fantastic place to pick up some fresh fruit. You can enjoy a lovely snack that will recharge your batteries before you continue with even more shopping.