It wasn't always this way, and prior to the Cuban Revolution the island nation was seen as a place of heavy indulgence, with wealthy Americans sweeping into the ritzy bars and restaurants of Havana and enjoying every delicious treat that was put in front of them.
The vast majority of restaurants then came under the control of the state and standards dropped.
Imagine making a meal with all the old ingredients in your fridge, covering it with salt and oil, and then attempting to enjoy it.
This is pretty much how it was in Havana for several decades. It was enough to make a food lover weep into their crispy kale drizzled with truffle oil.
This all came to a change in 2010 when the government relaxed their restrictions on private ownership in the hospitality industry. New restaurants opened all over the country, and these were restaurants headed by innovative chefs who made the most of the island's natural culinary resources.
Foreign food also became more common on a menu, featuring exotic items such as… sushi. The US and Cuba did not have the best relationship until fairly recently, so fast food giants such as KFC and Burger King are simply not available to the Cuban people… not that this is a bad thing.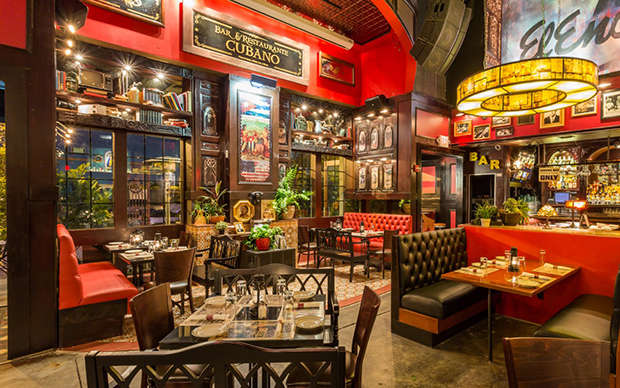 When it comes to tempting your tastebuds in Havana, it's time to take a tour of best restaurants that the city has to offer.
Traditional Cuban Food at Doña Eutemia
If you happen to be strolling along Callejón del Chorro and see a line of people waiting, you might wonder if you've stumbled upon a hot new nightclub.
Nope.
These people are waiting for a table at Doña Eutemia, a fabulous restaurant that serves traditional Cuban fare with a minimum of frills. It's really rather basic, but is utterly delicious. It's reasonably priced with a warm and welcoming atmosphere, and you won't regret having to wait.
In fact, you might make a reservation for the next evening so you don't have to stand in line.
Located at Callejón del Chorro, Number 60c .
Paris in Havana at Le Chansonnier
Exceptional French cuisine might seem a tad out of place in the Cuban capital, but Le Chansonnier is one of the most remarkable restaurants in Havana.
Located in the inner-city suburb of Vedado, it looks like a slightly shabby apartment building from the outside, which is why the interior is all the more surprising.
The restaurant is elegantly decorated without being over the top, and the staff are attentive and yet discreet. It's more of a formal dining occasion than many other options in the Cuban capital (with prices to match), but it's worth it for the French themed food made from exquisite local ingredients.
Located on Calle J, Number 257e .
Not Much Room at Cafe de los Artistas
Space is not something they have a lot of in this tiny restaurant located in the heart of Havana's Old Town.
The venue is very small, and is almost always full, and the mammoth portions don't leave much extra space on your plate (not that there's anything wrong with that). Its standing as one of the most popular restaurants in Havana is obvious, and so it's a smart plan to find it a couple of days before you dine so that you can secure a reservation.
The food is traditional Cuban with a number of Spanish and Italian touches, and is a taste sensation.
Located on Calle Aguiar, Number 22 .
Vegetarian Food and More at 304 O'Reilly
The owners of the restaurant located at 304 O'Reilly Street didn't put much thought into the name of their establishment.
But still, 304 O'Reilly is quite the culinary gem.
It would be financial suicide for restaurants in Havana to offer an exclusively vegetarian menu (although there are a couple of places that are trying), and yet 304 O'Reilly manages to offer a comprehensive vegetarian selection that doesn't sacrifice taste. Try the vegetable tacos.
Located (unsurprisingly) on O'Reilly, Number 304.
From the Ocean to Your Plate at Mediterraneo: One of the Best Seafood Restaurants in Havana
There's an upstairs terrace with a mere four tables in this former mansion-turned restaurant. If you want something special, then you should try for one of these lucky four, although a reservation can be a good idea.
The main dining room is still an utter delight and of course you're there for the food. Mediterraneo is billed as an Italian restaurant, and while the pizzas are excellent, you really should opt for one of the seafood dishes.
The lobster ravioli is a subtle sensation, with all the tastes melting on your tongue. If you're in the mood to share, get the grilled seafood platter… although once you have your first bite you probably won't want to share any of it.
Located on Calle 13, between Calle F and Calle G .
Just like 304 O'Reilly, it seems that the owners of this café were stuck for a name. Esto No Es Un Café roughly translates as This Is Our Café.
Fair enough.
It suffers from a popular location where a lot of restaurant hawkers will attempt to bring you to another "excellent" restaurant just around the corner. If it was so excellent, why do they need to pay someone to drag customers off the street?
Ignore the hawkers and head straight into Esto No Es Un Café.
It manages to offer a selection that ranges from the basics (a hearty sandwich with a side of fries) to more formal dining such a whole lobster with a variety of side dishes. It's actually just down the street from the delightful Doña Eutemia.
Located at Callejón del Chorro, Number 58a.
Are you going to visit any of these amazing restaurants? Let us know in the comment section below.