Havana, and indeed all of Cuba, is on the edge of a major change.
If you haven't been reading the papers (or looking online, because so few people actually read the papers anymore), the US and Cuba have resumed formal diplomatic relations after decades of a relationship that was at best, frosty, and at worst, downright hostile.
Tourist numbers are expected to soar as it becomes easier for Americans to visit Cuba .
Americans previously needed to visit for a specific pre-approved reason, such as education or a cultural exchange.
They couldn't simply visit because they just wanted to check out one of their nearest neighbors.
Any flight from the US to Cuba had to operate under a special charter license, meaning getting a ticket was slightly different than booking a seat on a regularly scheduled flight.
All these things will come to an end, and while the influx of tourists certainly won't ruin Havana, it will change it.
These changes won't happen overnight, and might not even be that obvious.
Having said that, there are some key reasons to visit Havana sooner rather than later.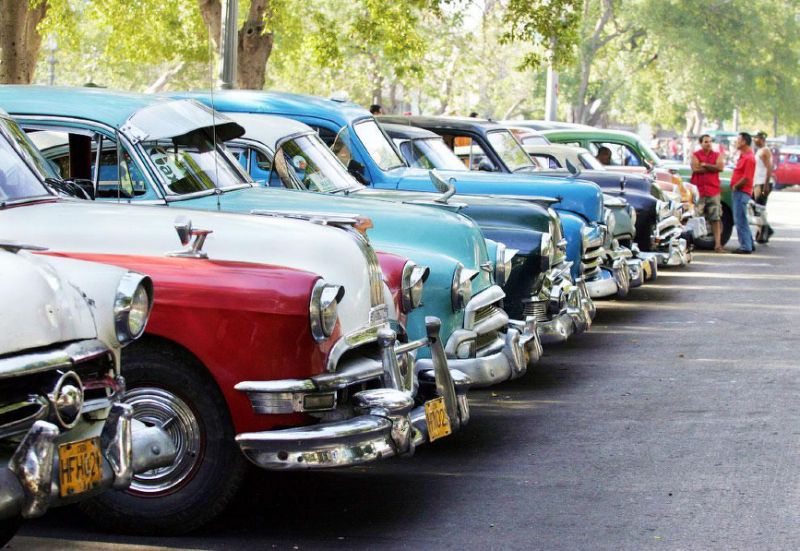 The Beauty of Four Wheels
Protecting those classic cars was a welcome move by the Cuban government.
Now that the trade embargo between the US and Cuba has eased (and might eventually disappear), it was worried that those gorgeous old cars that prowl the streets of Havana would be bought up by classic car collectors, and would spend the rest of their days in a private collection.
The Cuban government was never going to let that happen, and there have been severe export restrictions on these vehicles for many years. So get lost, rich classic car collectors!
These babies are staying where they belong. With an increased number of tourists, it might be harder to hire one of these cars for a city tour, so booking ahead becomes even wiser, particularly during the summer months.
Staying at Home (Kind Of)
With more visitors, there might be more wonderful Casa Particulares across Havana.
These privately owned bed and breakfasts allow you to stay in a Cuban family home while still enjoying as much privacy as you like.
Cuba is in fact the fastest growing market in the world for Airbnb (both in terms of bookings and new properties) so it seems like the supply is thankfully growing to meet demand.
A Casa Particular is like a homestay, and it's a remarkably warm accommodation experience, more like staying with friends.
Smoke Up
Smoking is not exactly allowed in all of Havana's bars and clubs, but the law is not strictly enforced.
Smoking a huge cigar while at a bar is not everyone's idea of fun, but it can be a wonderfully naughty experience, especially if you love somewhere with a total smoking ban.
Be sure to ask if smoking is allowed, or just follow the local's lead.
Where Havana Was Born
You could spend all of your time in Cuba in Havana's Old Town and you would still want more.
Yes, it's tourist-central, but the lavish old buildings that hark back to Cuba's colonial past are breathtakingly beautiful.
Try to allow a couple of days to explore this part of Havana.
It's the village that modern Havana grew from.
Havana After Dark
Havana has a party scene that can be frantic without being too much.
There are places to sit and drink, and places to dance the night away.
Avoid the bars around the Old Town if you want to mingle with the locals.
Instead go to the cool bars and clubs in the district of Miramar.
If dancing is more your thing, be prepared to dance up a storm at the Casa de la Musica (also in Miramar)
The US-Cuban Relationship
It can be interesting to wander around Havana and look at examples of how the US-Cuban relationship is changing.
The US flag is becoming more and more prominent as Cubans begin to show their appreciation of their neighbor and old friend who is new once again.
It remains to be seen how Cuba will deal with the huge number of US travelers, but increased interactions between the two peoples will do wonders for international relations.
Drink Up
Yeah, yeah… You can't travel to Havana without trying the rum.
Try to book a distillery tour that comes with a lot of free samples.
With regards to other alcoholic beverages, some bars in Havana are reporting running low on beer during their peak times.
This is almost certainly due to the increasing number of tourists.
It won't be a permanent problem once production is increased, and you can always buy a few beers from the market and sit outside.
Revolt!
The Cuban Revolution is a mark of pride for many Cubans and so this won't change. Exploring the key sites of the revolution is already a must-see for many visitors to Cuba, and this won't change either.
Be sure to check out the Granma, the yacht that transported Fidel Castro to Cuba right before the revolution. It's in a gigantic glass box next to the Museum of the Revolution.
With any luck an increase in American visitors will encourage the museum (and other museums in Havana) to offer more English-language tours.
Retro Charm (and Taste)
One thing that will become slightly annoying with more people, and that's a visit to Coppelia. This Havana institution is an ice cream parlour with a gorgeous retro feeling.
It looks like somewhere that hasn't changed since the 60s (which is kind of true).
On a hot summer's day, you can expect to be waiting in line to buy ice cream for at least an hour (the place is really, really popular).
More people will mean even more waiting, so get there early in the day.
Thought About Moving?
Maybe all this US-Cuba friendliness will encourage more people to not only want to visit Havana, but to make it their home.
There's an increasing demand for English lessons in Cuba, which makes sense with the expected influx of English-speaking visitors.
So perhaps you have a dream of living in Havana and teaching English?
Working visas are difficult to get, although it's not impossible. Maybe Havana can be more than a holiday.
There is another school of thought on this matter.
There are some who suspect that Havana might be easier to visit in a few years, rather than immediately after the US eases restrictions for its citizens to go to Cuba.
It's rare that a country will have to deal with such an influx of visitors so suddenly, and it might take a few years for Cuba to get used to it.
Once the demand becomes obvious, things like accommodation options and public transport will rise to the challenge, making a Cuban vacation a totally smooth affair, no matter how busy the local tourist scene might be.
But of course, who wants to wait a few years before they get to experience Havana?