What's your drink of choice when you head out for an evening on the town? If you're on a budget, then you might stick to good old beer, and there's nothing wrong with that. Perhaps cocktails are your preferred indulgence? While we don't want to encourage binge drinking, if you tend to enjoy a number of cocktails on a night out, it's likely to make a rather annoying dent in your bank balance. This is why holidays can be pretty darn awesome when it comes to self-indulgence (particularly those cheap drinks). When studying a cocktail menu, you have probably noticed that a number of the items on offer originated in Cuba.
You might have even tried to replicate these beauties at home, but it never quite tastes the same. It seems that there's more to making cocktails than some fancy shaking and mixing while standing behind a bar.
The bars in Havana will quickly lodge themselves in your memory, and when you go home, there's a chance that you might annoy your friends without even trying. "Oh, this mojito isn't as good as the ones I drank in Havana." Or, "This daiquiri is 10 times more expensive than my favourite dive bar in Havana." Yeah, maybe this will get on your friend's nerves, but maybe they need to get their backsides to Havana too. So what are some of the best bars in the Cuban capital that will quickly become your new favourite watering holes?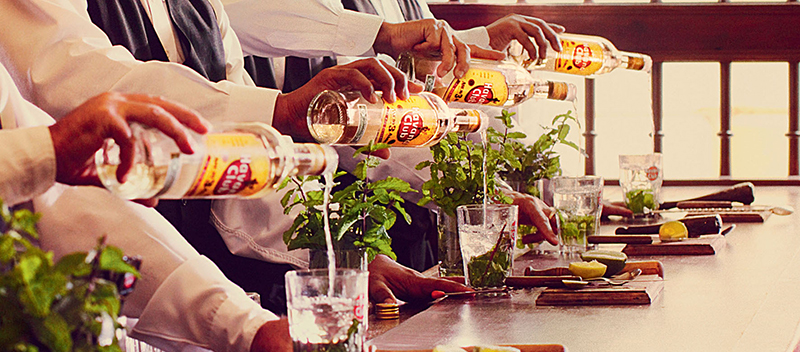 Haunted by Hemingway: El Floridita (Havana's Old Town)
Let's get this one out of the way first. It's something that most visitors to the city will want to see, and the literary connection makes it one of the most popular bars in Havana. Yes, El Floridita is the place where a little-known writer by the name of Ernest Hemingway used to hang out and drink. There's a cute life-sized statue of him propped up against the bar, which is a selfie magnet. It's worth a look, and the drinks are great (if a little on the expensive side), but make it an afternoon excursion since the crowds can get a bit much in the evening.
Oily Havana: Fabrica de Arte Cubano (Miramar)
This massive space contains some of the coolest bars in Havana. The Fabrica de Arte Cubano (affectionately known as FAC) is located inside a disused oil factory, and the space contains numerous bars, nightclubs, and gallery spaces. It's the best choice for an all-inclusive night with the hip young things of Havana.
One of the Most Stylish Bars in Havana: Hotel Nacional (Vedado)
This is one of the most glamorous spots in the entire city, and was once the domain of Havana's rich and famous (as well as the stars of Hollywood's golden years, back before the US imposed the embargo on Cuba). To actually stay in the hotel would represent a sizable investment, but you should come and enjoy a drink in one of the hotel's three bars. You can look out across the water and pretend to be a movie star.
Brilliantly Weird: Cafe Fortuna Joe (Miramar)
Like a surrealist dream, perhaps Cafe Fortuna Joe makes more sense after you've had a few drinks. The interior of this place is comprised of "found objects" (yeah, OK – you can call it junk). Old tools and appliances are lovingly stuck all over the place, and the actual tables are old cars (some of which you need to sit inside). It's truly one of the most unique bars in Havana, but please don't drink too much inside one of the car drinking rooms and think you're already in a taxi on your way home…
Let Your Hair Down (Or Your Wig): Humboldt 52 (Central Havana)
Havana is a fairly liberal, easy going kind of place, which is why it's curious that there aren't all that many LGBT bars. Humboldt 52 is one of the few, and it's a truly great party. Everyone is welcome, and there are some impressively flashy drag shows on offer. You could also drink a few cocktails and try your luck at karaoke.
Underground and Stylish: Cafe Teatro Bertolt Brecht (Vedado)
The memory of the German poet and playwright Bertolt Brecht lives on in one of the most fun bars in Havana. OK, so the venue doesn't really have anything to do with his work, but it's a fun underground bar that showcases some amazing live music. Unlike many venues in Havana, the music is generally rock as opposed to salsa.
We All Live in A… Submarino Amarillo (Vedado)
Amarillo means yellow in Spanish, and submarino means… well, you can probably work that one out. Unsurprisingly, Submarino Amarillo is a bar dedicated to the fab four from Liverpool. The Beatles were certainly known in Cuba, but they were not so widely popular, just like many other foreign entertainers during the trade embargo. This has all changed now, and this kitschy little Beatles-inspired bar is a curious delight. It's maybe not a good idea if you don't like Beatles music on repeat though…
The House of Music: Casa de la Musica (Vedado)
The Casa de la Musica is a mainstay in many Cuban towns, but other than the name, they are venues unto themselves (so it's not like a chain of clubs). Generally the most energetic spot in town, the Casa de la Musica is the place to go when you literally want to dance until the sun comes us. The music is mostly live, and varies from night to night. There might be a salsa band followed by a DJ, but whoever is playing, the party doesn't start until late at night. Havana actually boasts two unrelated places called the Casa de la Musica. There's one in Central Havana, and another in Vedado.
The Vedado venue is cleaner and generally less hectic while not losing any of that fabulous Cuban energy. And even if you don't feel like dancing, you can just sit at the bar, enjoy a drink, and watch the crowd.
Shhhh it's a secret: Casa Alta-Habana (Havana Vieja)
This one is a bit of a secret. Casa Alta-Habana , located just off of Plaza Vieja, is quickly growing its reputation for making the best Mojito in Havana. The rooftop terrace (usually reserved for guests or those lucky enough to be invited), is where the magic happens. Rodnier and Harold (your friendly barmen) even take cocktail making classes on the roof-top.
Casa Alta-Habana is on the second floor of a yellow tinged building on San Ignacio Street No. 412, right next to the Hotel Beltran Santa Cruz. If you are lucky enough, you might be able to get yourself an invite to the roof-top terrace to try a delicious mojito (or two).