You probably know of some amazing hidden spaces in your own town or city. Places that only a handful of other people know about. Places that would stay out of the guidebooks about your home. OK, so not every town or city has a guidebook, and sometimes this is for the best (which you will know if you've even driven past a town with a sign inviting you to visit "The Museum of Aluminium Farm Tools").
So, perhaps some places stay hidden for a reason… a very good reason.
But even if your town or city is the sort of place that tourist guidebooks were made for, you wouldn't want to share these secret places you love with the masses. It might be a corner of a pretty park with the lushest green grass you could imagine. It might simply be a tiny old-fashioned coffee shop in an obscure backstreet run by two sweet old ladies who give you a pitying look if you ask for soy milk. Whatever it is, you might want to keep those places to yourself.
So having said all that, you might not trust the so-called secret places that feature in many guidebooks. It can't be that much of a secret if it's gone into a book that has been read by who knows how many people, can it? When it comes to secret places in Havana, of course that same rule applies. And yet, there are some amazing secret spots in Havana that we just have to share with you. Just how secret they stay remains to be seen… So maybe you should hurry up and get to Havana as soon as you can!
Write or Wrong?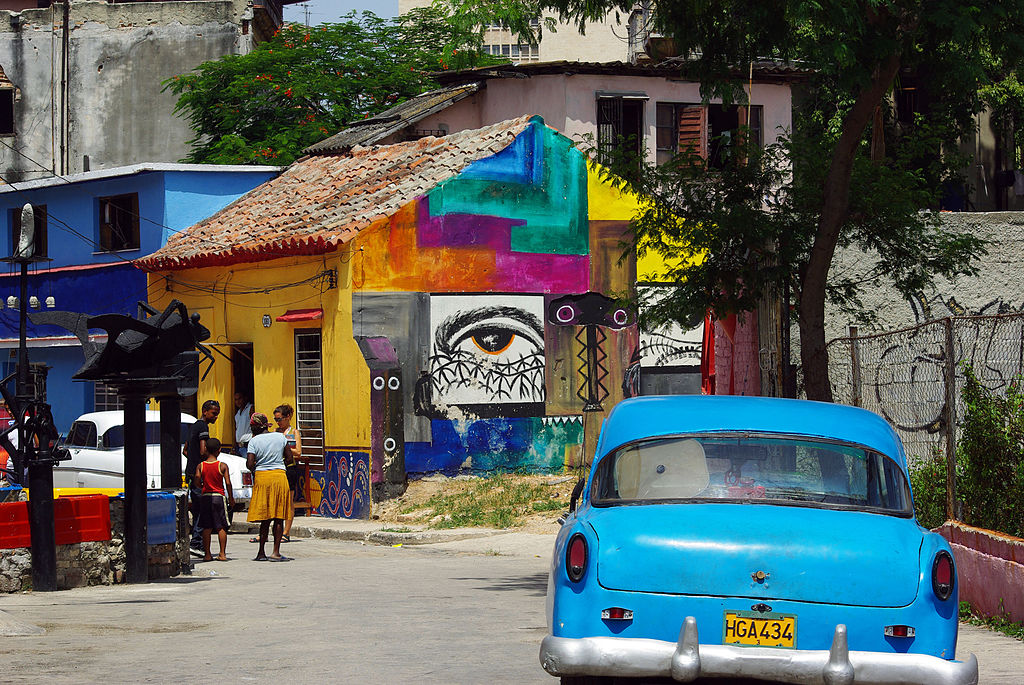 Head to the neighbourhood of Vedado on a Saturday night to put in an appearance at El Hurón Azul (on the corner of Calles 17 and H) This grand mansion is the meeting hall/social club for the Cuban Union of Writers (UNEAC). So you can expect to see a lot of old men and women arguing about what you imagine are very bold concepts pertaining to philosophy and art. If you spoke Spanish, you might realise that they're just arguing about what to have for lunch at the restaurant housed in the same building. Go on Saturday evenings because there is generally music and dancing (it's Cuba after all).
Working Up the Courage
If you fancy yourself as becoming one of those writers someday, you're going to have to start somewhere. Perhaps you're brave enough to try one of the open microphone nights at Café Literario (located on Calle 23 and G, also in Vedado). It's popular with artists and students, and is not in the slightest bit pretentious (even though you might have to suffer through some poorly written poetry).
It's a very welcoming atmosphere, and even visitors are welcome to get up on stage and share your work or thoughts into the microphone. You might need a mojito or two before you can work up the courage, but this is perfectly understandable. This is one of those places in Havana where you might learn a few things about yourself.
Bright and Bold
A lot of buildings in Havana are painted with bold, even garish colours. You might think that this has stepped up a notch when it comes to certain buildings in the Miramar district. It's one of the brightest places in Havana, largely due to the work of the artist José Fuster. His home and studio (Casa-Estudio de José Fuster, located on Calle 226 and the corner of Third Avenue) is an explosion of colour and wonderfully weird accoutrements. You will know when you're close, since Fuster has decorated some 80 homes in the neighbourhood.
One of the Most Quiet and Calm Places in Cuba
Calle Obispo is about the busiest, liveliest street you'll find in Havana's Old Town (La Habana Vieja) and yet at the end of it, you will find a quiet spot that is one of the most relaxing places in Havana. Fayad Jamís is a book shop that feels like it doubles as an event centre, since there's always something going on. It's a place where you can linger and browse (and enjoy a break from the heat right outside). There's something cooling about the place, but this might be little more than quiet and calm nature of the Fayad Jamís shop. There are a number of English language books on offer if you don't speak Spanish, and you should also ask the friendly staff if there happens to be any English language book readings while you're in town.
Higher Education
Some universities around the world look as though they capture all the style and charm of when the faculty was built… like around the mid 1970s. And then there are some universities around the world that are jaw droppingly beautiful, and make you feel like you will have art and culture jolted into your brain just by walking through the front door. The University of Havana (Universidad de La Habana, located in the Vedado district of central Havana) most definitely falls into the latter category.
Founded in 1728 as a religious school (which speaks of the strong Catholic influence in the centuries before the Cuban Revolution), the university became more inclusive in 1842 in that it began to teach matters other than religion. It was originally established in Havana's Old Town, and moved to its current location in Vedado in 1902. It's this new location that you'll want to visit as it's one of the secret places in Havana with the best views. And yes, we know it's silly to refer to something that happened in 1902 as "new," but hey – it's all relative.
Climb the meandering slopes around the university campus and take in the views. Havana doesn't have all that many naturally elevated spots, so the university is a great way to enjoy some unique views of the city… views you won't have to share with too many other visitors.