There are some iconic buildings that are immediately identified with the city in which they're located. The Empire State Building, the Eiffel Tower, the Sydney Opera House. These are the places whose images have been reproduced in countless tourism brochures, and while some people might come to the cities in question just to see these structures, it's not as though the cities would be any less interesting if these buildings had never been constructed.
There's a certain thrill when it comes to seeing these places in the flesh, and yet the reality can be quite different. The photos in the tourism brochures have been caught from flattering angles, with the masses of visitors all taking photos being cleverly cropped (or photoshopped) out. And then there are some remarkable cities that have fascinating architecture ; remarkable buildings that are even more remarkable due to the fact that they have not achieved the status of a global icon. But this can be even more thrilling, like you're seeing something utterly special that hasn't shown up in a million selfies.
There are a number of famous buildings in Havana that fit this description. While not internationally recognisable, these buildings have a difficult to define character – one that is as beautiful and complex as the city herself.
Rum Money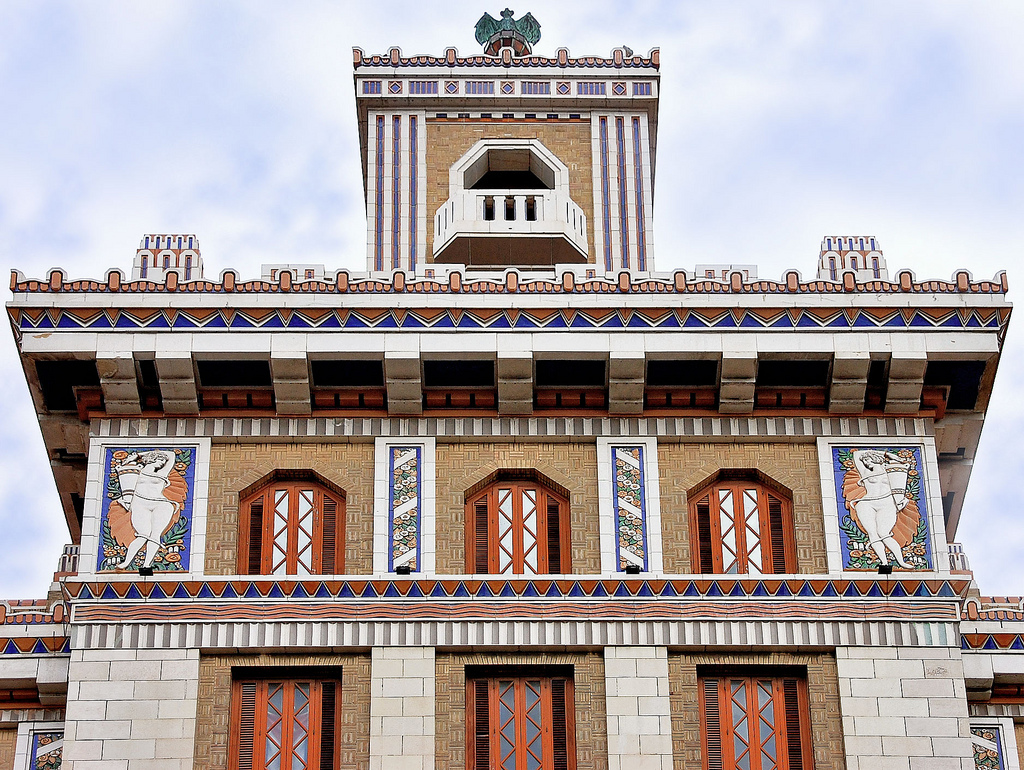 Rum might be synonymous with Cuba, and one of the most famous buildings in Havana was built with rum money. Like many corporations, the Bacardi company moved their operations offshore after the Cuban Revolution, since it was difficult to base a truly international company in Cuba at that time, and a lot of assets were seized anyway. But still, the Bacardi group left behind their Havana headquarters and it's a stunning sight to behold.
It was unveiled in 1930, and back then it was the tallest building in the city. A prime example of Art Deco architecture, the building is topped with a bell tower, giving it a look that is as reminiscent of heaven as that rather delicious rum.
After the Bacardi group left, the building was a simple (though achingly beautiful) office building. It really wouldn't be possible to work in a more beautiful office. It now hosts the Havana City Historian's Office, which is perhaps a rather fitting use for this grand structure.
Old School Charm
Another prime example of Art Deco is the Hotel Nacional de Cuba (which also opened in 1930). Cuba was popular with wealthy (and famous) Americans prior to the revolution, which was logical. It was inexpensive, exotic, and just a short flight away. The Hotel Nacional de Cuba is one of the most famous buildings in Cuba, and it's here that Hollywood stars (and numerous organised crime bigwigs) came to stay and party and generally strut around looking glamourous. It actually hosted a mafia conference in 1946, away from the prying eyes of US law enforcement. The current hotel speaks of an old school charm, even though the celebrities are long gone.
The rooms at the hotel might not be to everyone's budget, but take a wander around the grounds and enjoy a cocktail at the bar if you want to feel fancy. During the Cuban Missile Crisis, large anti-aircraft guns guns were installed in the hotel's gardens and a network of escape tunnels were built. It's a sharp contrast to the glamour of the rest of this remarkable place.
Some of the Famous Buildings in Havana Have a Famous Name
OK, so perhaps it's not a famous name unless you're familiar with Cuban history. José Martí is generally just described as a Cuban national hero. This is because it's quicker and easier than calling him a poet, philosopher, journalist, academic, revolutionary, and soldier. He was devoted to the notion of Cuban independence, and died at the age of 42 while fighting against the Spanish in 1895. Get used to hearing his name, because there are a vast number of streets, plazas, monuments, and buildings named after him.
When flying into Havana, you will in fact arrive at the José Martí International Airport. But an airport is an airport, and unless you're an aviation enthusiast, you'll want to head to one of the more famous buildings in Havana that were named after him. It's in fact his memorial, and this oddly shaped 109 metre high tower has five points extending outwards.
If you happen to fly directly over the José Martí Memorial while on your way to the José Martí Airport, you will see that it's designed to look like a star when viewed from overhead. It's an austere looking building, which fits with the stylistic conventions of the time (construction commenced in 1953 and it was completed in 1958). The memorial also offers one of the best views in the city, and you can go to the top for a small fee.
Some Soviet Style in the Heart of Havana
Embassies on foreign soil need to be go through a lot of approvals. This is why it's fantastic that the Embassy of Russia in Havana exists. Granted, it follows the Soviet constructivist style, although this style was becoming rarer in the 1970s when the embassy was built. Proud and imposing, it looks like a sword has been stabbed into the ground. It might have been approved by Cuba anyway, but this approval might have been easier due to the fact that the Soviet Union was one of Cuba's strongest allies for many decades.
Of course, the nature of the embassy underwent some restructuring when the Soviet Union came to an end, but the building remained the same and continued as the Russian Embassy. Construction took place from 1978 until 1987, and it was only the actual Soviet Embassy for less than four years. Sadly, it's not so easy to actually explore the interior of one of the more interesting famous buildings in Havana (it's an embassy, after all), but you can admire the remarkable exterior when you wander around Miramar in central Havana.
Do you have any questions? Please leave a comment!