No trip to a foreign country is complete without sampling a few of the local delicacies. But this means the authentic local food, and not some semi-trashy fast food concoction with a "local" twist. So yes, a trip to Munich is most definitely complete even if you don't try a McBratwurst. The local food in Cuba used to have a reputation that was… how can we say this? Really bad. Those who went to Cuba before the proliferation of privately operated restaurants owe themselves a return trip. Until a couple of decades ago, the vast majority of restaurants were run by the state, serving slop that even a prison cafeteria would think is not good enough.
But then the government removed a lot of the red tape when it came to operating a private business in the country, and the Cuban food scene blossomed. Nowadays on the island you can find an impressive range of cuisine, ranging from cheap fast food to international delights and of course, well-made Cuban food in restaurants who take great pride in serving the best that their country has to offer. A trip to Cuba is a treat for all your senses, and this happily now includes your sense of taste. So where can you give your stomach a gift it won't forget while in Cuba?
The Best Way to Start Your Day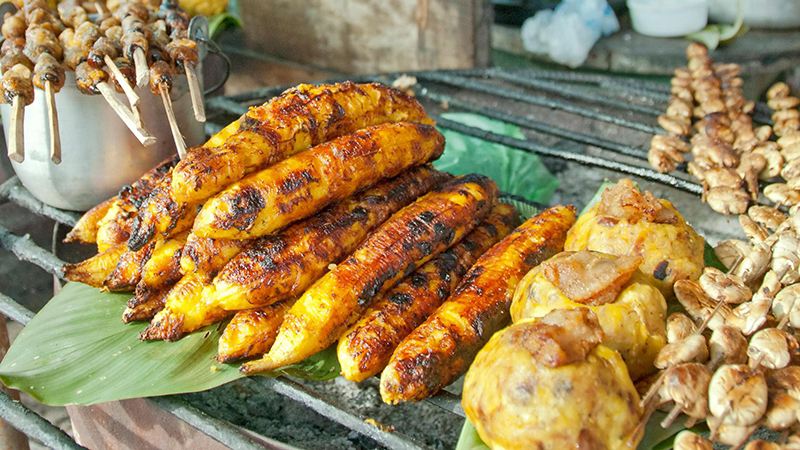 You're an adult, and so you can do what you like. This means it is perfectly acceptable to start your day with some dessert, and this is really what you must do when you're in Havana. It could be argued that ice cream couldn't legitimately be included on a list of local foods in Cuba, but you come to Coppelia for the atmosphere. This grand old ice cream parlour reportedly came into existence due to Fidel Castro's fondness for the stuff, and so Coppelia was born.
Head to the branch in Vedado (Calle 23) for a shot of 60s modernist style glamour when eating your frozen treats.
The place is surprisingly American, looking like something out of a movie and you need to come as early as possible. A victim of its own popularity, Coppelia tends to run out of favours fairly early into the day so selection can be limited. But it's wonderfully weird to munch down a few scoops of ice cream in the morning while being somewhere that looks like a foreigner's idea of America while still being brilliantly Cuban.
How the Locals Do It
OK, so now that you have been refreshed with more than a bit of ice cream it's time to resume your hunt for the best local food in Cuba. To see how the actual locals do it, go to the street market that's also in the Vedado neighbourhood of Havana (Calle 17). This is not some hip farmers market with stalls selling vegan hot dogs and boutique cheeses. This is the place where the residents of Havana come to buy their groceries.
This where you can see the potential of Cuba's natural resources, with a large amount of local produce, all incredibly inexpensive. While the piles of plantains and sweet potatoes might look awfully tempting, this place is only somewhere to make a purchase if you happen to be staying somewhere with a kitchen in which you can actually do something with the food.
Local Food in Cuba to Avoid
Chances are that you will need to rely on restaurants and street food when it comes to filling your belly in Cuba. You will find a lot of different types of cuisine to choose from, much of which seems to be geared towards visitors (and is of varying quality). Stay clear of outlets that seem to have a stack of pre made food ready to give to customers. You will see mounds of sandwiches pressed behind glass windows and piles of grilled meat ready to be served.
One question to ask yourself: why isn't that food refrigerated? It's cheap, it will fill you up, but a lot of this street food isn't exactly Cuban (and it might give you an upset stomach). And you don't need to bother with that sort of thing when there are so many succulent types of local food in Cuba.
We're not saying that all street food in Cuba is bad (quite the opposite), but be mindful of what you choose. Look for sandwich outlets that prepare their temptations right in front of you, or for vendors that serve their food fresh and hot, such as grilled corn on the cob that literally goes from the grill to your mouth.
A Few Suggestions
With a bit of research you can certainly find some gourmet hotspots on the island (restaurants in Cuba get Yelp reviews, just like anywhere else). You can also rely on word of mouth, such as from your hosts if you stay in a Casa Particular homestay accommodation. Beware of touts who try to lure you into a particular restaurant, since they work on a commission and are not simply a helpful local trying to assist a bewildered tourist. But having said all that, there are a few places you might want to go when looking for the best local food in Cuba.
Havana: We've already given you a few options when it comes to the Cuban capital, but for quick, cheap food that is filling and yet still good quality, try your luck along Calle Bishop in Havana's Old Town. Follow the crowd to Varieties Bishop and enjoy some Cuban fried chicken that would make Colonel Sanders hang his head in shame.
Baracoa: This isolated beachside town (where Christopher Columbus first landed) has a particularly distinctive cuisine. In this part of Cuba, try Cucurucho – a mixture of shredded coconut and guava with a few optional additions, all wrapped in a palm leaf.
Santiago de Cuba: On Saturdays and Sundays you will want to base yourself at Avenida Victoria de Garzón for the street food. Try the lechón – whole roast pig cooked on a spit.
Do you have any questions? Leave your comment below!