For some visitors to the Cuban capital, their experiences begin and end with Havana's Old Town. There is not much wrong with this, since it encapsulates the Cuban experience for many people. And it's also great to have a rich and interesting chunk of the city that can be explored entirely on foot. But there is more to this lavish city than its heart. There is no shortage of tourist attractions in Havana, so it's important to make a list of your priorities. It can also be an easy idea to arrange a walking tour of the Old Town, showing you the highlights, giving you a sense of direction, and sparking your interest about which places you will want to return to for some more detailed explorations.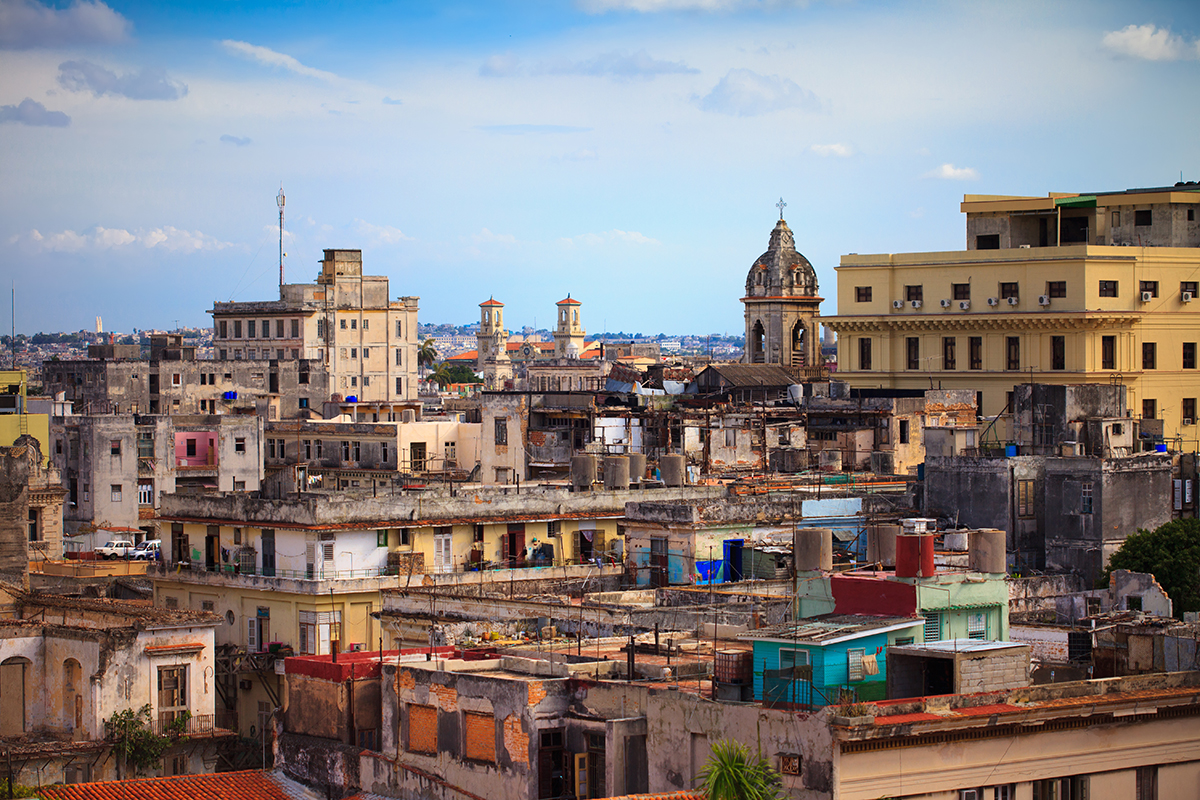 If you are having some issues working out just what should be classified as a must-see in the Cuban capital, we've got you covered with a list of 10 of the best.
1. Plazas Upon Plazas
Much of Havana's Old Town is centered around its numerous plazas. You should take the time to explore them all, but you might find yourself drawn back to the Plaza de la Catedral, where (if you hadn't guessed by the name) the Cathedral of Havana can be found. It's an example of the once rapid growth of the settlement since the city authorities had to in fact drain a swamp to build this particular plaza (after some time as a naval dockyard). The austere beauty of the Cathedral itself makes this square one of the top tourist attractions in Havana. The building once reportedly held the remains of Christopher Columbus, although this is disputed.   
2. The Artist's Street
The Callejón de Hamel is a trippy, unexpected sight in Havana's Old Town. This small street was settled by a number of artists and they didn't confine their efforts to their studios. Much of the street has been decorated and they weren't subtle about it. It's like a weird artist colony hidden right in the heart of the city.
3. A Hairy Revitalisation
Another wonderfully weird addition to a list of the best tourist attractions in Havana is this small street that has been revitalised by hair… in a manner of speaking. Known as Hairdresser's Alley (Callejón de los Peluqueros), this once struggling part of Old Havana was transformed by Arte Corte, a hair salon that also became a museum to the art of cutting hair. More local businesses experienced an upswing in trade as a result of Arte Corte, and now the whole street is a truly vibrant hub of activity.
4. The Malecón
It's impossible to visit Havana without spending time on the Malecón. It feels like most of the city's residents are strolling along with waterfront walkway on a warm evening, and it offers a truly Cuban slice of life which is different to Calle 23 (but more about that shortly).
5. Hotel Nacional de Cuba
Walking along the Malecón, you are likely to sight the Hotel Nacional de Cuba in the distance and it warrants your attention. This art deco building was once the height of opulence in Havana, and was a favored hang out of the rich and famous Americans who flocked to Cuba prior to the revolution, including many figures in organized crime (who would meet away from the prying eyes of US law enforcement). It is still staggeringly beautiful and you need to spend some time exploring its gardens (with a drink at the bar, naturally)
6. Take Some Time to Explore Vedado
We have included a few specific points of interest in Vedado, but you can't go wrong with a wander around the streets of this part of Havana. Once upon a time it was the ritziest area of Havana, and while the overt displays of affluence are long gone, there is a faded charm to walking these streets. Due to the resurgence in tourism in Cuba, many of the mansions are finding new lives, and many of them have been converted into bars and restaurants. You can enjoy a meal in a stately home if you were so inclined.
7. Calle 23 (Perfect for People Watching)
One of the primary streets in Vedado itself is Calle 23. It attracts a younger crowd than public spaces closer to Havana's Old Town and so is perfect for people watching. It stretches down to the Malecón and is filled with social activity. Drink a beer (as many of the locals will be doing) and watch the vibrant nightlife of Havana unfold in front of you. And then along Calle 23 it's just a short walk to the next item on our list of the top 10 tourist attractions in Havana.
8. American Style Meets Cuban Charm
Fidel Castro was reportedly so fond of ice cream that he wanted to make it available for the Cuban masses. And so, Coppelia was born. Jazzed up in the style of a 1960s American diner, this ice cream parlour serves the hungry crowds day in and day out. It's a brilliant contradiction to see this slice of Americana in the heart of Havana, but make sure to get there early since they have an annoying habit of running out of varieties as the day goes on. So unless vanilla would have been your original choice anyway, make it an ice cream breakfast.
9. Gritty and Yet Beautiful
Much of Havana's port area is run down, but there are some deeply interesting spots here and the whole area will undergo a slow resurgence in keeping with Cuban relaxed way of life. You will notice a disused elevated railway line, and there are plans afoot to turn it into a green walkway, much like the High Line in New York or the Promenade Plantée in Paris. It might someday become one of the best tourist attractions in Havana. Instead of pondering what might be to come, enjoy what is already there. Right on the water at the port is the Almacenes de San José, housed inside a sumptuous warehouse that way built in 1895. This is a massive market where you can buy Cuban handicrafts or one of the many, many, many Che Guevara items on display.
10. One of the Truly Refined Tourist Attractions in Havana
If you need a break from the hectic Havana life, spend an afternoon exploring the ornate beauty of the Colon Cemetery. It's where many of those who shaped Havana have been laid to rest and is a curious patch of tranquility in the centre of the city.
Do you have any questions? Leave your comment below!