Is it unusual that graveyards and cemeteries can be immensely popular tourist attractions? And yet this is exactly what has happened to many such places around the world. The mammoth Père Lachaise Cemetery in Paris can quite literally be clogged by visitors in the summer months, all diligently studying maps that will lead them to the final resting places of some of the cemetery's famous… well, let's call them residents.
Wartime tombs and cemeteries are also major draw cards, albeit for more sombre reasons, and the Tomb of the Unknown Soldier (also in Paris, under the Arc de Triomphe) and the Neue Wache Memorial in Berlin (the final resting place of an unknown soldier and an unknown victim who perished in a Nazi concentration camp) attract millions of visitors each year. Havana's Colon Cemetery might seemingly lack the gravitas of a standard memorial or the star factor of having a number of internationally famous "residents," but it's still somewhere that should be visited while in the Cuban capital.
It's simply stunning, and there is no more accurate way to describe it.
What's in a Name?
When travelling in Cuba, and indeed, much of the Spanish speaking world, you're going to hear the name Cristóbal Colón a lot. This is someone you will have heard of, but you probably know him by the anglicised version of his name – Christopher Columbus. And this where the name for Colon Cemetery comes from, although the man himself is not buried there (and he died in 1506, some 370 years before the cemetery was inaugurated).
If you're interested, his remains were stored in Havana's Cathedral from 1796 until 1898 before being permanently moved to the Cathedral of Seville in Spain.
An Urgent Need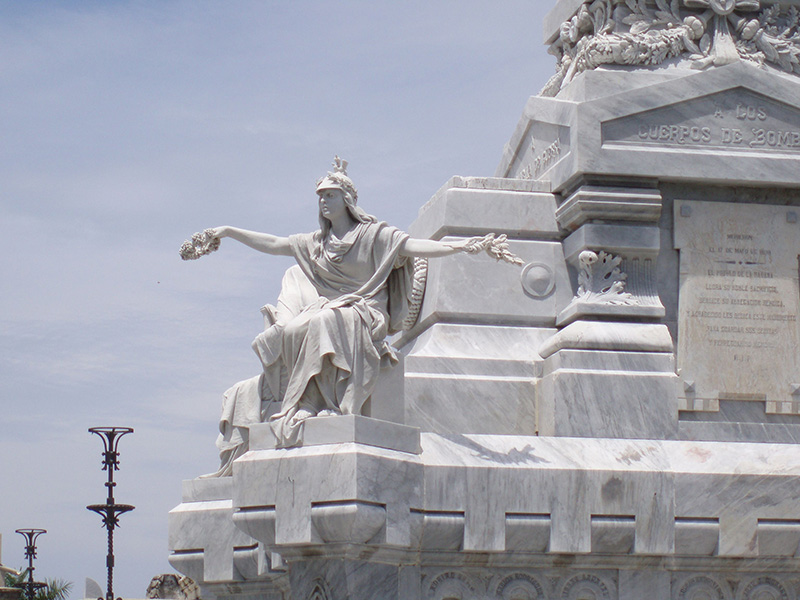 Inaugurated in 1876, the Colon Cemetery was built out of necessity (which you could argue is the case with all cemeteries). The nearby Espada Cemetery was the main burial ground for Havana from 1806 until 1878. Before that, most of Havana's dead were buried in the vaults of the numerous churches in the city. But this was not an effective long term solution, and so Espada Cemetery served the city well enough for the next decades.
Soon enough, an urgent need arose for a significant amount of additional burial space, leading to the approval, design, and construction of Colon Cemetery. Cuba was greatly affected by a cholera outbreak which broke out in 1868. The dead quickly filled the remaining spaces in Espada Cemetery, and Colon Cemetery was then inaugurated as its successor in 1876.
The First "Resident" of Colon Cemetery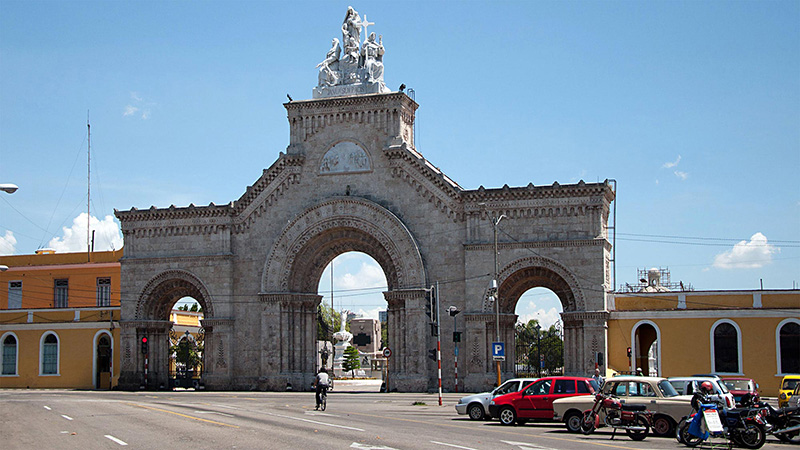 So why would you want to visit a cemetery while in Havana? Yes, it is the final resting place for more than one million people (it's not always quite so final, but we'll talk about that a little later). Oddly fittingly, the Madrid-trained architect who designed the place was in fact the first person to be buried there, as Calixto Arellano de Loira y Cardoso died while the cemetery was still being constructed.
Once the need for the cemetery had been determined, the project was opened to designers, and Calixto Arellano de Loira y Cardoso's plan was the winning entry. Although a cemetery serves a practical purpose, it became a popular visitor's attraction short after opening, inviting favourable comparisons with the Père Lachaise Cemetery in Paris, as well as La Recoleta Cemetery in Buenos Aires, Argentina.
A Place of Tranquility and Reflection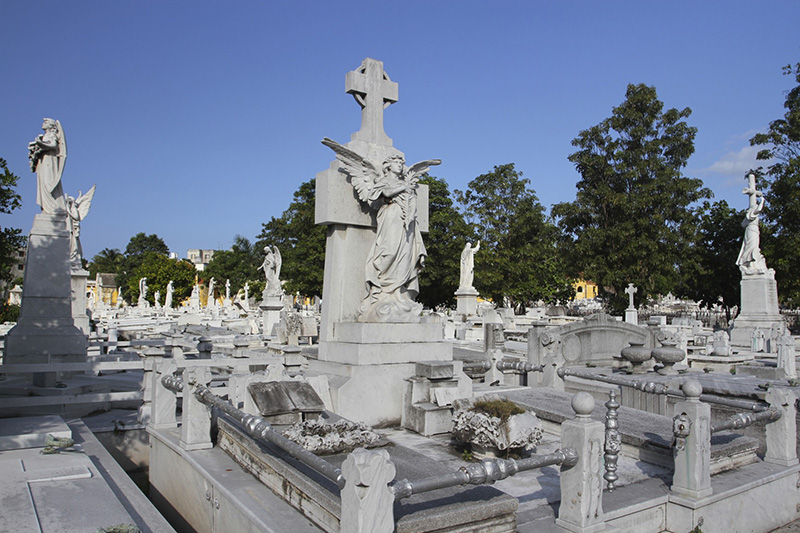 These days, the cemetery is a place of tranquility and reflection, as it should be. It's much like a garden with more mausoleums and gravestones than trees, and while you might not be visiting to pay your respects to anyone you knew, or even to see the final resting place of a well-known personality, the Colon Cemetery offers a welcome respite from the hustle and bustle of Havana. It's an ideal place to come, sit, and think, or simply to quietly wander the numerous walkways located within the cemetery. Quiet is a keyword here.
While the cemetery is a legitimate tourist attraction, it's important to remember that it's still a cemetery. You will encounter people who are there to mourn or simply quietly visit the graves of their loved ones, and you might even come across an actual funeral. So this is not the place to run around and shout (and children should be supervised), and be respectful with any photos you might want to take.
A Taste of What's to Come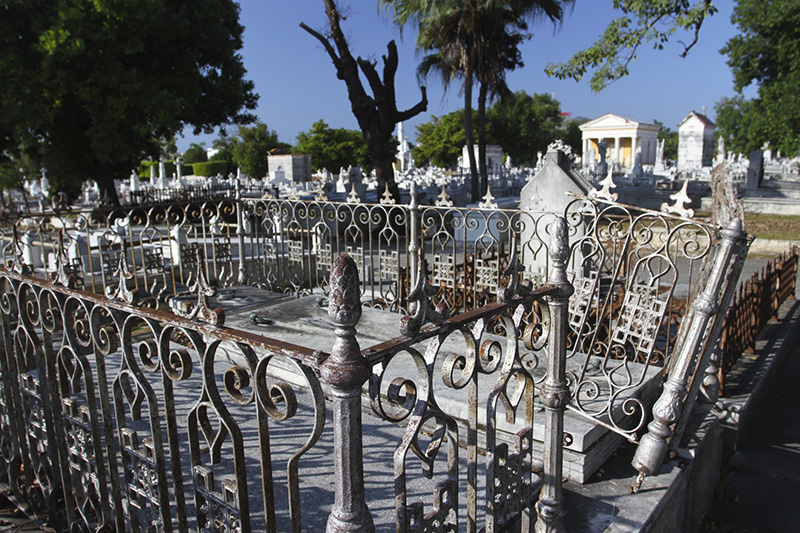 While the Arc de Triomphe in Paris has its own (single) grave, you enter the more expansive graveyard of Colon Cemetery through a similarly shaped arc (although obviously nowhere near as large) at the northern end of the site. This entryway is magnificently ornate, and this gives you a taste of what's to come.
The individual mausoleums within the complex are touchingly beautiful, and admirably practical too, since they often house the bodies (or cremated remains) of all the members of the same family. It's like an open air museum, filled with elaborate and yet tasteful statues, all with their own cultural influences. You could easily spend hours in quiet reflection wandering around Colon Cemetery, which is sharp contrast to the city that surrounds it.
Not Always a "Final" Resting Place
Havana has had a tumultuous history, but there has not been such a concentration in the number of deaths since the cholera outbreak that resulted in the construction of Colon Cemetery. But still, with more than 800,000 graves that house more than one million residents (mausoleums partially account for there being more residents than graves, in case you were wondering), the capacity of Colon Cemetery has become an issue.
While it is the final resting place for the vast majority of those who were buried here, it's not final for everyone. Recent burials in the cemetery only remain in the ground for three years, after which they are exhumed and laid to rest in a specially constructed building.
This might seem odd, but it allows for the wishes of many Havana residents to be followed – to be buried in the beauty of Colon Cemetery… even if it's not forever.