Header Photo Credit – Chasingtravel.com
Are you someone who generally abstains from alcohol? Perhaps you're someone whose drinking only takes place when you're on vacation. After all, the consumption of alcohol can be a cultural experience when you're in a foreign country. What, the Oktoberfest only sells one litre beers? Sure, no problem… have one, or two, or seven. It's all part of the cultural experience. This bar in Moscow has how many different kinds of vodka?
Certainly, who knows when you'll be there again, so you would quite probably regret it if you didn't try one, or two… or seven. When it comes to where to go in Havana, there's a pretty strong chance that you will be spending a few evenings in one of the city's many watering holes, which range from delightfully shabby to super chic and trendy. You'll be doing some drinking and some thinking, and the thinking will probably be something along the lines of, "This mojito cost how much? That wouldn't even pay for the drinking straw back home. How can I quit my job and spend the rest of my life in this city?"
So when it comes to your time in the Cuban city, which places do you need to see? And where are the best places to drink when you're passing through?
Literary Daiquiris in Havana's Old Town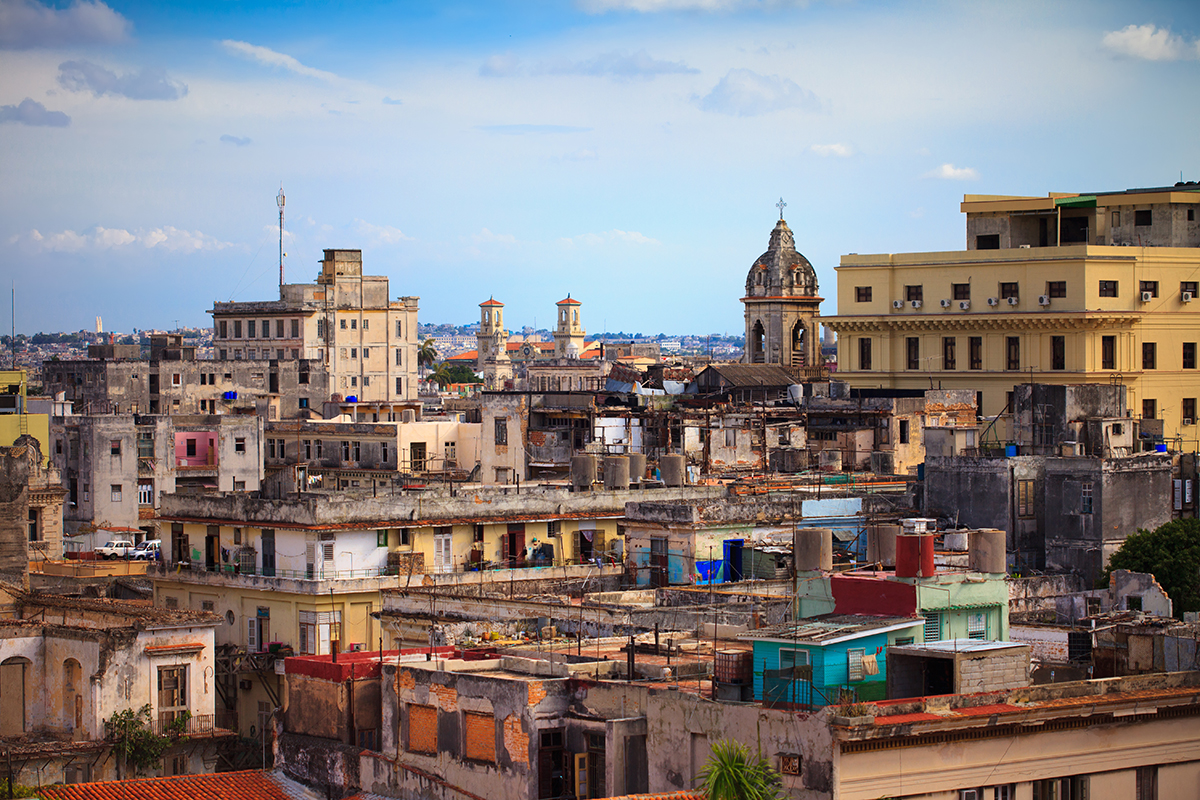 Havana's Old Town (La Habana Vieja) is going to be the number one choice when it comes to where to go in the Cuban capital. This is the village that gave birth to the vibrant city you'll fall in love with, and it's here that you will find ornate city squares bordered by the brightly-coloured buildings that the country is known for. It's the Havana of the tourist brochures for sure. After all the wandering you'll do in the Old Town, you'll need some refreshments.
El Floridita has appeared in many a guidebook and is arguably most famous for its association with Ernest Hemingway, who used to drink here daily. For this reason, you might want to visit during the daytime (since it becomes rather packed in the evenings). The place has been in operation as a bar since 1817 under a few different names, and is known as the birthplace of the daiquiri, although this is open to some debate. There's a lifesize statue of Hemingway at the bar, which makes for an irresistible selfie opportunity.
( El Floridita, Obispo, La Habana Vieja )
A Hole in the Wall in the Old Town
El Chanchullero de Tapas is another place that is a victim of its own popularity, although to be fair, it doesn't take many people for this fantastic place to become crowded. Also located in Havana's Old Town, there are a grand total of four tables in the place. It's a less-polished type of place, and while the gritty vibe might seem a bit off-putting, this tiny gem needs to be included on any list of where to go in Havana.
(El Chanchullero de Tapas, e/ Bernaza y El Cristo, 457 A bajos Teniente Rey, La Habana Vieja )
Where to Go in Havana for an All-Inclusive Night
The long lines outside the Fabrica de Arte Cubano (FAC) are a testament to this place's popularity, and while waiting to get inside somewhere is not exactly a great start to an evening, FAC is certainly worth it. And this is Havana, so it's not as though you're going to be waiting in the cold. FAC itself is in fact located in an old oil factory and it's the best bet when it comes to where to go in Havana for an all-inclusive night. This is simply because there are a number of options all within the same venue. There are numerous dancefloors and bars, along with galleries, live performance stages and even a cinema. Instead of bar and club hopping all night, just come to FAC.
It's located in the neighbourhood of Vedado, which is right next to Havana's Old Town, and is perhaps less tourist-oriented than La Habana Vieja. This is the part of town where it could be argued that local residents are more likely to come for a night out. It's seriously fun.
( Fabrica de Arte Cubano (FAC), Calle 26, Vedado )
When You Don't Want a Truly Late Night
Not every place when it comes to where to go in Havana results in an all night party. Cafe Fortuna Joe is more of a daytime and evening place. It closes at midnight, which is ridiculously early by Havana's standards. It's a wonderfully crazy to enjoy a drink, and their choice of seating is… unique. There is a hollowed out old car in which to sit, along with an old horse cart, and even a bed when those mojitos begin to take effect. Before going inside, take some time to stroll around the neighbourhood of Miramar, where the venue is located.
This was where the wealthy citizens of the city lived prior to the Cuban Revolution, and while a lot of the residents left these homes (voluntarily or otherwise), the district has undergone a renaissance in recent years. Many of these grand homes (which are slowly being restored to their former glory) are being repurposed as guest accommodation, restaurants and cool bars.
Feel Like an Outdoor Drink?
Maybe you would prefer to enjoy a cold beer under the stars. Do what the locals do, and head to the Malecón, a beautiful waterside esplanade that runs from Havana's Old Town to Vedado. There are vendors selling drinks, and it feels like a social hotspot, where both locals and visitors gather to simply enjoy the atmosphere. If you're unsure about where to start your evening (or where to spend the entirety of your evening), the Malecón is your best bet. It's conveniently located, meaning you can wander at your leisure before venturing back into the heart of the city to explore the numerous bars and clubs.
Do you have any questions? Please leave a comment!