The city of Havana is a fantastic contradiction. It manages to feel like a place that is constantly on the go, and yet is still immensely laid back. It's an Australian phrase to say "no worries," and yet you can't help but feel that it's far more accurate in Cuba. There's hustle and bustle, although with everything still feeling undeniably relaxed. It creates a vibe where you feel like anything is possible… or nothing, if you would prefer to simply sit and watch the world go by like a rather energetic piece of street performance. The whole city feels like it has a sense of the theatrical, from the elaborately dressed and outgoing personalities of the residents, to the artfully restored buildings of Havana's Old Town, sitting in bright sunlight that make them look like a perfectly lit movie set.
The locals are so chilled out and personable, but we can't, strictly speaking, suggest the people of the city as one of the top 10 places to visit in Havana Cuba. Not to worry, since you will have many memorable encounters with the residents of the city as you explore its magic.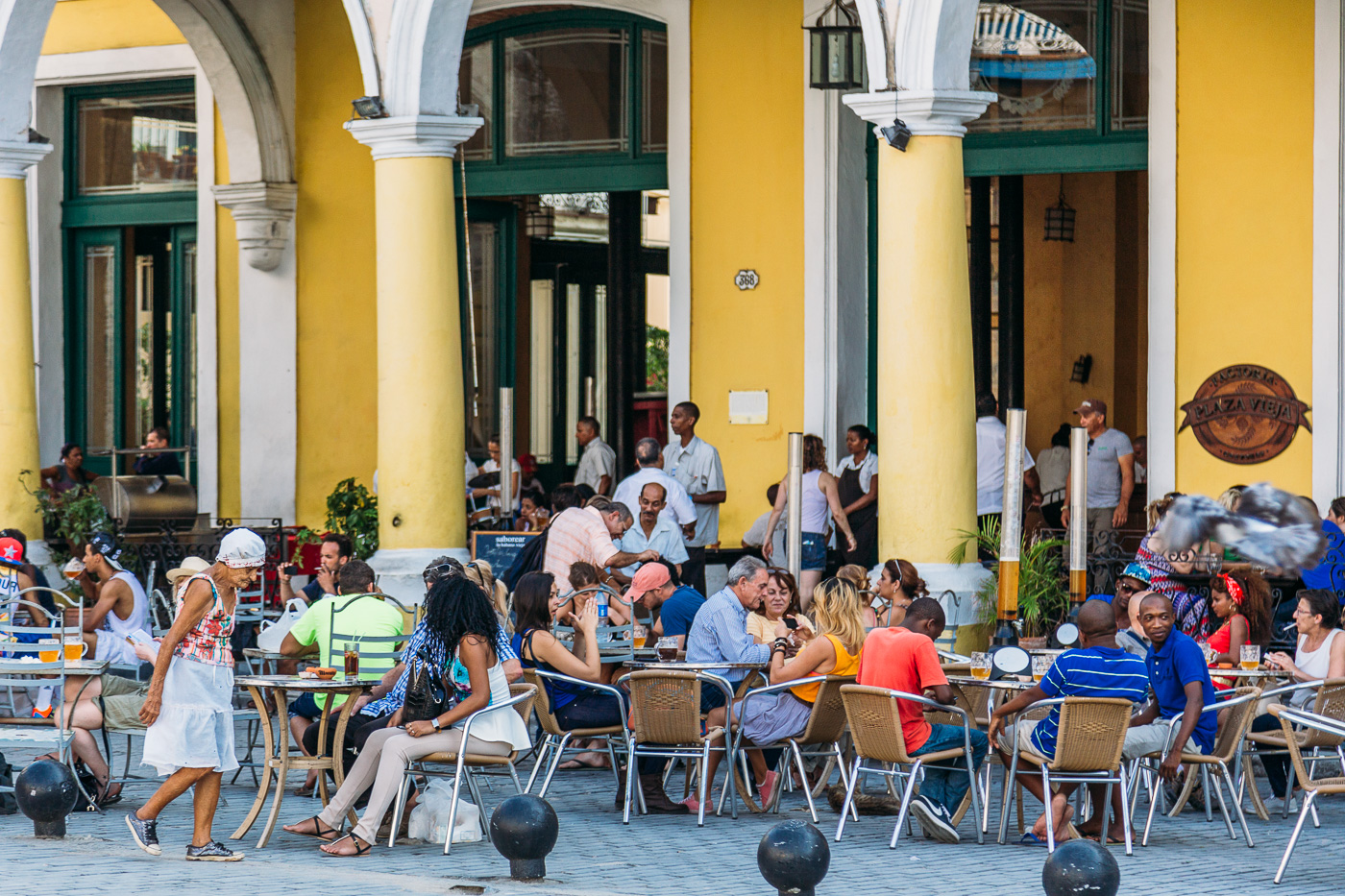 There are so many things to see in this marvellous city, so we've compiled a list of 10 of the top places to visit in Havana to get you started.
1. Pick a Plaza
Havana's Old Town is built around a number of grand plazas, all connected with well-maintained narrow streets which are just perfect for exploring. It feels like you will have just left a grand plaza, only to emerge in another just moments later. It's not as though you will feel any form of plaza fatigue, since these sublime open spaces each have their own distinctive character. It's difficult to choose just a couple to include on a list of the top 10 places to visit in Havana Cuba, but we have done some thinking.
You will probably get the best holiday photos in Plaza Vieja, which looks exactly like you would expect Havana to look. Grand, stately buildings all painted in bold shades face a large open square (which dates all the way back to 1559). This was once one of the wealthiest places in the city, and it was seen as the ultimate status symbol to own a home which allowed you to sit on your balcony and watch (and be watched by) the folks wandering around down below.
2. Plaza of Books
There's another plaza that we just had to include on our list of the top 10 places to visit in Havana Cuba. Also located in Havana's Old Town, the Plaza de Armas is notable for its second hand book market which takes place daily from 9am until 7pm (excluding public holidays, and it also closes early in the event of rain). Most of the selection is in Spanish, but you won't have to look so hard to find some holiday reading in English.
3. Shopping Has to Be One of the Top 10 Places to Visit in Havana Cuba!
You will probably be in the market for some souvenirs, and there's a one stop shop that allows you to pick up everything you will need for your friends back home (along with some stuff for yourself). The Almacenes de San José is a huge warehouse on the water at the Port of Havana, and this is where local artists sell their goods. You will find tacky souvenirs, lovely hand crafted leather goods and everything cigar related. It's fun to wander around, even if you don't make a purchase, and the building itself is stunning.
4. Another Side of Havana
Many cities around the world have a Chinatown, but the Havana version is particularly interesting. There was an influx of Chinese immigrants to Cuba in the 1850s, with the population decreasing after the Cuban Revolution a century later. Havana's Chinatown fell into disrepair but was extensively restored in the 90s and is now a charming example of a minority cultural group that helps to give the city its unique atmosphere. Walk along Cuchillo Street and you are more likely to hear Cantonese and Mandarin than Spanish.
5. A Night Out at FAC
There are so many options for nightlife to include on our list of the top 10 places to visit in Havana Cuba, so we've chosen a real winner. Head to FAC (Fabrica de Arte Cubano) for a night out where you won't want to leave. This huge space (in an old oil factory) is a nightclub with multiple dance floors, different bars, as well as a gallery and performance space. It really has everything you will need for culture and fun.
6. Drink with Hemingway
It's a known tourist hotspot, but you really need to check out what was Ernest Hemingway's best-loved bar during his Havana years. El Floridita (on Obispo) was where you would find the great writer most evenings. There's a life-sized statue of him at the bar, allowing him to stay at his favorite watering hole forever.
7. Where the Locals Hang
If you want to feel like a local (although yes, plenty of visitors wander around here too), make your way to the Malecón, an 8 km (5 mile) long esplanade that stretches along the waterfront on the edge of Havana's Old Town. Take a walk, drink a cold beer, and watch the world go by.
8. Baseball and People Watching
You simply have to visit Parque Central on a weekend to see skilled amateurs play baseball. What is also bags of fun is to watch the spectators. They tend to become very… um… passionate about the game. Don't worry, those arguments quickly subside.
9. The Best View
For one of the best views in the city you can head to the Plaza de la Revolución. Here you will find the 109 meter tall José Martí Memorial, which you can climb to the top of (for a small fee) in order to take in a bird's eye view of the city.
10. Time to Cool Off
In all honesty, the beaches of Havana don't rank amongst Cuba's most beautiful. But they are a convenient way to cool off after a day of exploring all that the city has to offer. Try Playa Bacuranao, just on the outskirts of the city. The beach can become crowded during the summer months, but this gives it added life. The snorkelling is sensational too, so you might want to rent the necessary equipment from one of the many willing vendors nearby.
Do you have any questions? Leave your comment below!