How many times have you read a travel blog that contains a line such as "About the best way to see (insert name of city here) is on foot"? Sometimes this idea is stretched too much, although the only things that will truly feel stretched if you follow this advice are the muscles in your legs and feet. Sometimes it's possible to see most of a city on foot, but it's not always practical. Tried walking across Paris? By the time you reach the fancy department stores on the Champs-Élysées, you will be drowning in sweat and will possibly exploit the free perfume samples in order to hide the smell.
Walking across Bangkok is about the same, only with added heat and the "thrill" of possible death from crossing one of the city's many busy streets where the road rules are seen as a mere suggestion.
Walking in Havana could go either way. The city is compact to the point that you could conceivably cover most of it on foot, but this doesn't necessarily mean that you'll want to. The heat is glorious, but not when you're walking in it all day long. There are some amazing walks on offer in the city, and so it's best to break up your walking tours into more manageable chunks, allowing you to see the city on two legs without overdoing it.
Before You Begin to Plan Your Walks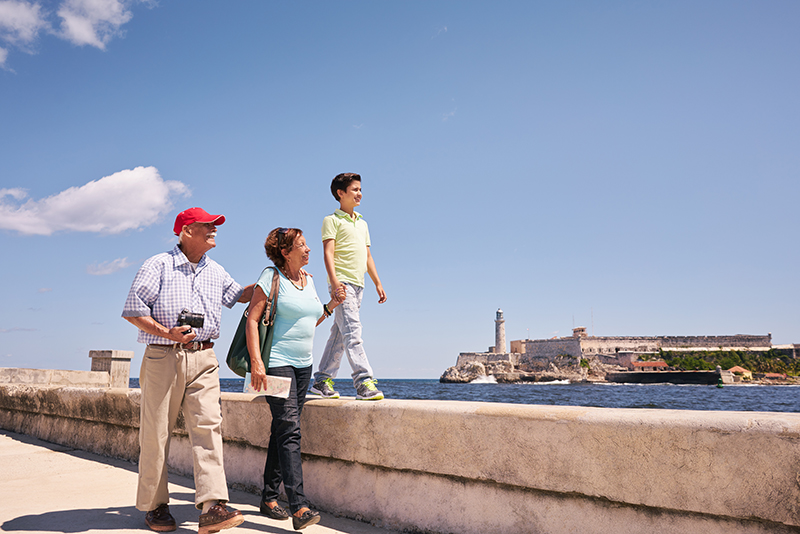 Before we get onto the lost of the best places to go, there are a few useful pieces of information about walking in Havana.
You'll need comfortable walking shoes. Walking in Havana isn't going to require hiking boots, but a pair of comfortable, sturdy sporting shoes are an absolute must. Remember that you might be walking along cobblestone streets, which are not the most even of surfaces.
If you happen to buy a new pair of shoes for your journey, it can be smart to wear them in before you arrive. Walking in Havana often means walking in humidity, so your feet might swell up a little. You'll want to have worn the shoes in before you arrive in the city so you can avoid blisters. Be sure to bring some band aids with you, just in case, since these can be annoying difficult to track down while in Cuba.
The water in Cuba isn't dangerous, but it might give you an upset stomach. You're going to want to enjoy your holiday, and this is going to be difficult when you need to spend a large chunk of time in the bathroom. Stick to bottled water, and please stay hydrated to beat that Cuban heat when you're out walking. And sadly, no, a mojito doesn't count as hydration in this context.
There can be an occasional rain shower in the evenings, so carrying a lightweight rain poncho can come in rather handy when you're out walking around Havana. Don't worry – the rain showers are usually mercifully brief and cooling.
There are an increasing number of public internet hotspots in Havana (they're not free, but you just buy an access card from one of the many stores that stock them), but you won't simply be able to use your smartphone everywhere if you happen to get lost. You might want to download a map of the city to your phone that can be accessed offline. You probably will never have to use it, but you'll be grateful you have it if you take a wrong turn.
The Best Choices When it Comes to Walking in Havana
The Malecón
One of the most interesting options for walking in Havana is also the longest. At 8 kilometres in length (5 miles), walking the entire length of the Malecón is not for everyone, although you can of course only walk a section of it (and you might want to use a taxi for the return journey). This seafront walkway shows you a remarkable cross section of the city, and if you're game, start at the end of the Paseo del Prado and head west. It will take the best part of a day to walk the entirety of the Malecón, but you will go past the edge of Havana's Old Town, Chinatown, and into the dishevelled charms of Vedado. Once you cross the Rio Almendares and arrive at the Italian Embassy, then congratulations, because you've walked the whole thing. There are many kiosks and rest spots along the esplanade, so it doesn't have to be a relentless power walk.
The Plazas of Old Havana
This is more of a gentle stroll and takes in some of the most beautiful spots in the city. Havana's Old Town is laid out around a number of interconnected plazas, each with their own unique charm. Starting in the Plaza San Francisco de Asis, walk to the Plaza de la Catedral, the Plaza de Armas, before finishing at Plaza Vieja. You will of course enjoy the highlights of each individual square, staying for as long as you want, even though the whole affair will take a few hours. Check out the book market at Plaza de Armas, and the Princess Diana Memorial Garden (yes, really) at the Plaza San Francisco de Asis.
Higher Education
This is a walk that starts on the Malecón and continues inland for just 1.2 kilometres (about three quarters of a mile). Starting at the Hotel Nacional de Cuba, make your way through Vedado to the Universidad de la Habana. You will see it quite easily as it's slightly elevated – one of the few hills in the city. It's a short walk, but the slight incline in the final stages of the walk make it a little harder than it otherwise would have been. The university is beautiful to behold, but you are coming here to enjoy its elevation. The views over the water are nothing short of magnificent.
Do you have any questions? Just leave a comment below!